Facebook Group: Descendants of Jewish Kielce Province
To receive updates on happenings in Kielce, related news, and to interact with like minded members in a closed Facebook group, send a Facebook request to join Descendants of Jewish Kielce Province.
---
Recent Events
Kieltzer Society of New York Annual Yizkor Service – August 27, 2023
The Kieltzer Society held its annual Yizkor Service on August 27th. This year the memorial service was led by Rabbi David Blumenfeld and Cantor Nancy Abramson. Once again, the Society acted as a communal witness to the destruction of the Jewish Community of Kielce by the Nazis during World War 2.
---
Kieltzer Society of New York 5783 Yizkor Service – August 28, 2022
---
Kieltzer Society of New York 5783 Yizkor Service – August 22, 2021
---
Kieltzer Society General Meeting – June 30, 2021
---
Kieltzer Society Yizkor Service to commemorate the liquidation of the Kielce Ghetto on 9 Elul 1942
This event took place Sunday August 30, 2020 via Zoom. Watch it here:
---
On Yom HaShoah, the remnant of the Kielce Jewish Community living in Israel commemorated.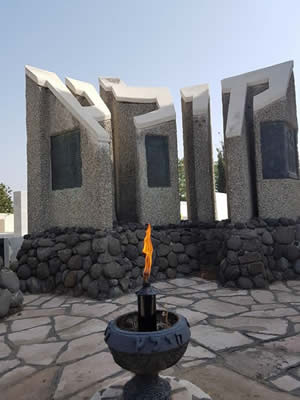 May 1, 2019, Holon, Israel
---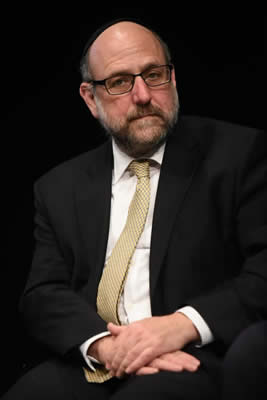 POLAND'S CHIEF RABBI DISCUSSES RECENT ISRAEL-POLAND HOLOCAUST CONTROVERSY
February 19, 2019
Wise words from Poland's chief Rabbi Schudrich. A very sensitive issue for all of us. As members of the Kieltzer Society, we feel that we should all make a greater effort at improving mutual understanding and dialogue. The full article is here.
---
ONE OF THE LAST SURVIVORS OF THE KIELCE POGROM SPOKE AT OUR MEETING
October, 2018
The Kieltzer Society meeting yesterday (guarded by 4 NYC policemen) was opened with a solemn memorial tribute to the Jews who were brutally murdered in their synagogue in Pittsburgh, Pennsylvania. The Kieltzer Society sent a generous donation, in the memory of the victims, to the Jewish National Fund.
At this meeting we had Joseph Feingold as our honored guest and speaker. Joseph, who is 95, is a survivor of the Kielce pogrom of July 4, 1946. He was able to share his horrific experiences on that infamous day in Kielce. Joseph, returning from labor camps in the former Soviet Union, was in the house at 7/9 Planty on that fateful day. He was beaten, severely bleeding and left for dead in front of the building. The authorities found him barely alive. He had a slow recovery from his concussion in a hospital in Lodz. Joseph ultimately came to the U.S. where he became a successful architect. Joseph, who enjoyed playing the violin as a child, found himself in the public spotlight several years ago, when a documentary was made of his act of giving his violin, which he bought while in a DP camp in Germany, to a school for immigrant girls in NY. His violin was loaned to a young black girl learning to play violin. This film, Joe's Violin, nominated for an Academy Award in 2017, was also shown at our meeting. Several of our members, who had a parent who survived the Kielce pogrom, had the opportunity to talk with Joseph Feingold and share the stories of their parents.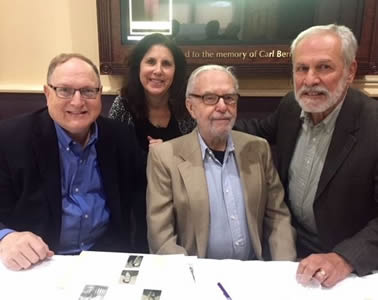 ---
BOGDAN'S JOURNEY – SCREENING
March 26, 2017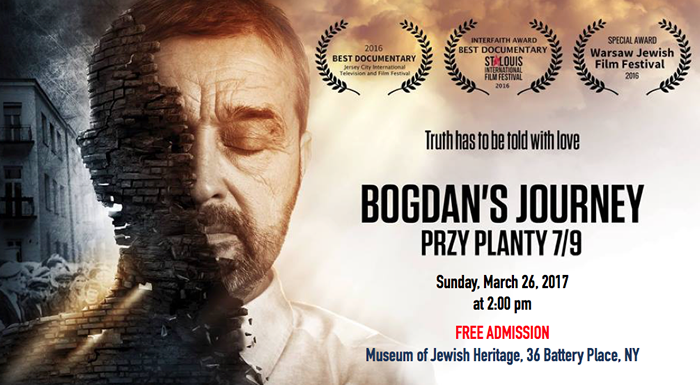 BOGDAN'S JOURNEY tells a story that the world has tried to forget. It is the story of Bogdan, a Catholic resident of Kielce, Poland, who bravely attempts to commemorate and persuade the people of Kielce of the atrocity, known as the "Kielce Pogrom", even while most of his neighbors continue to deny the brutal crimes of the past.
The place is Kielce, Poland, a troubled city. In 1946, Kielce was the site of Europe's last pogrom. 7 Planty Street, was the Kielce address of the communal shelter for Jewish survivors returning Kielce to search for any relatives that may have survived. Some survivors were on their way to Palestine and some had hoped to return to their homes in Poland.
A story unfolds, of one man's efforts to mend the wounds of a murderous assault sparked by the centuries-old false allegation that Jews murder Christians, to use their blood for ritual purposes (aka "The Blood Libel"). After 40 years of silence under the veil of communism, followed by 25 years of vigorous, contentious debate, wounds remain raw. Scenes showing Bogdan's bold actions in fostering public dialog, along with interviews of townspeople, and compelling eyewitness and survivor accounts of the pogrom, are combined with rarely seen archival footage. Bogdan seeks to educate Poles about what happened in their town. What is their reaction to this day-long murderous assault under the eyes of the entire town?
The film takes the viewer on a voyage that attempts to heal and mend bitter years of hatred. BOGDAN'S JOURNEY is a film that deserves to be discussed by Poles and Jews together.
Film trailer with archival footage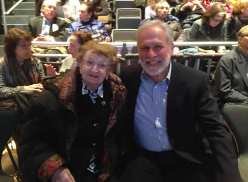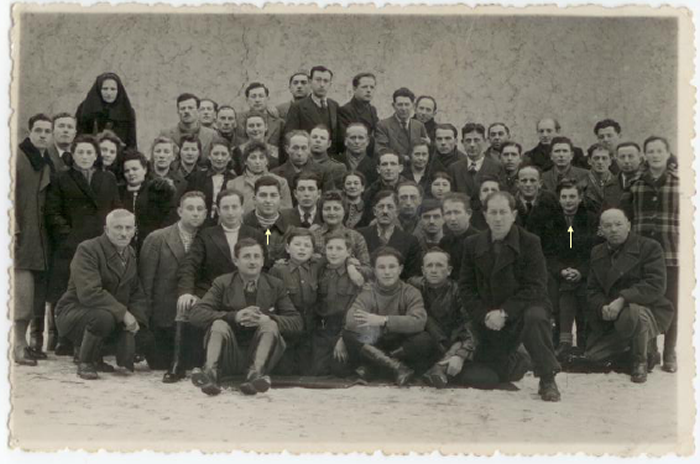 ---
The Kieltzer Society paid tribute to outgoing president Henry Glenn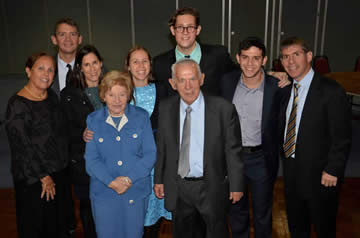 October 18, 2015
On October 18, 2015, The Kieltzer Society honored outgoing president Henry Glenn and his wife, Ester, for their many years of dedicated service. Cocktails and dinner were served at Temple Gates of Prayer, Flushing, New York.
The newly elected President of The Kieltzer Society, Manny Bekier, gave a presentation on how The Kieltzer Society evolved in it's 110 years of existence. He pointed out that now, for the first time, the organization is in the hands of "the 2nd generation" of Holocaust survivors and he called for active involvement of a new generation of members. Many new members were inducted this past week.
---
Amnezja (Amnesia)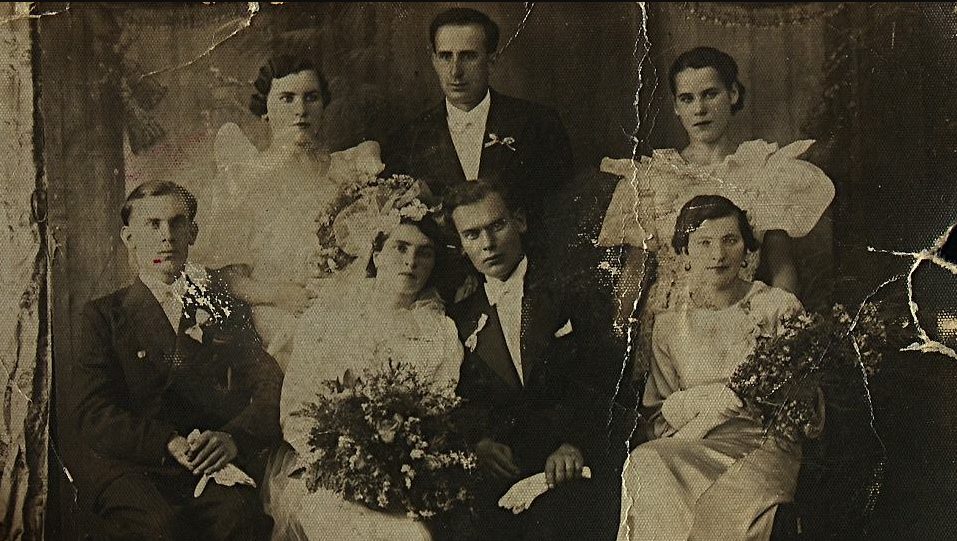 Here is the trailer for the film AMNEZJA. I had the opportunity to view this film at a special preview in Kielce (arranged by the Jan Karski Society, in the building 7/9 Planty, where the pogrom took place). I also had the opportunity to personally meet with Piotr Piwowarczyk, the filmmaker and man who had the courage to confront his family past.
Piotr's grandfather, Boleslaw Stawiarski, was one of the perpetrators of the Kielce pogrom. His grandfather was in the 2nd wave of perpetrators who worked in the Luwikow steel mill.
 Piotr, who lived in Poland for 22 years, only after 20 years abroad did he learn that only a short distance from his family home, 42 people had been murdered in the Kielce pogrom on 4 July 1946. A phone conversation with his mother revealed this unknown part of his family history. In order to fully explain the matter, Piotr returned to Kielce, to confront his mother and his hidden family past. I admire Piotr's courage in confronting his family past and making this important film.
---
Commemoration in Kielce
July 4, 2015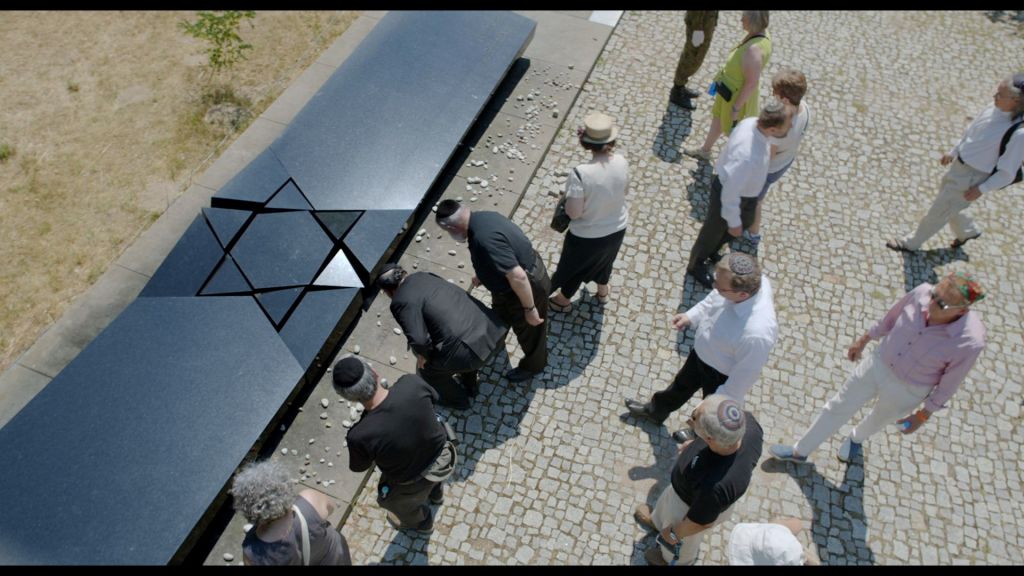 Many photos of the commemoration have been published. Part of Manny Bekier's speech at the Jewish cemetery was quoted in the 2nd paragraph. The translation is not exact. "I don't believe that most Poles are anti-Semitic, or any more anti-Semitic than people in other countries of Europe. I think that people sometimes may feel disenfranchised and are looking towards patriotism as a means to rally under, improve their lives and gain self-respect. Anti-Semitism and blaming "outsiders" has always been an effective means to unite people, as well as blaming others for their misfortunes" said Manny Bekier, President of the Association of Kielce Jews in New York. He added "For me, Kielce is no longer a place of old black and white images. Remembering our shared past will always remain a part of our legacy. But now I am also able to see Kielce in full bright colors. I need to say this because I feel it is about time that we stop looking at each other, Jew and Pole, Pole and Jew, as if we are coldly staring at the enemy. It is time that we show each other mutual respect".
The Civil Ceremony (69th Anniversary of the Kielce Pogrom)
There was a small civil ceremony on Saturday, July 4th, by a delegation of city authorities acknowledging the pogrom that took place 69 years ago, and was reported on Kielce TV. Bouquets and candles were also submitted by representatives of the Świętokrzyski Region "Solidarity" Jan Kochanowski University and the Institute of National Remembrance. The major commemoration was held the following day, in observance of the Jewish Sabbath.
While looking at the incredible photographic exhibition "And I Still See Their Faces", located at the building at 7 Planty Street (site of the pogrom), Manny Bekier, President of the Kielce Society in New York, was stopped and interviewed for Kielce TV. Reporters noticed Bekier's excitement over some of the enlarged photos, that they learned from his wife, were of his deceased father and his family from Kielce.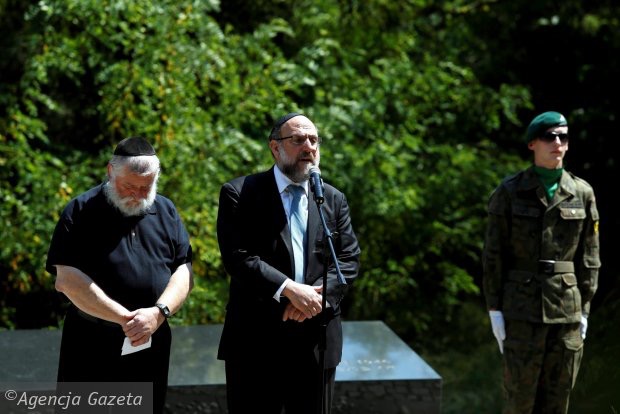 The 69th Anniversary of the Kielce Pogrom (July 5, 2015)
This past July, marked the 69th anniversary of the Kielce pogrom. A meaningful commeoration was held this past July 5, 2015 in Kielce, Poland, where a once sizeable Jewish community thrived. The commemoration began in the Jewish cemetery. Prayers were led by Chief Rabbi Schudrich and El Male Rachamim was sung by the great cantor, Benzion Miller. Commemoration of the pogrom was covered by Kielce TV (see video). There was a small, inconsequential protest demonstration prior to the commemoration by a small bunch of young, misguided "Polish Nationalists" who felt that they should not be held responsible for the pogrom, claiming the perpetrators were all outside Soviet provocateurs. They were ignored and were not allowed to demonstrate once the commemoration began. Although visibly upset, Manny Bekier, President of the Kieltzer Society, who participated in the commemoration,stated "I would not consider them anti-Semitic. They were only a handful of young, misguided nationalists, in search of a cause".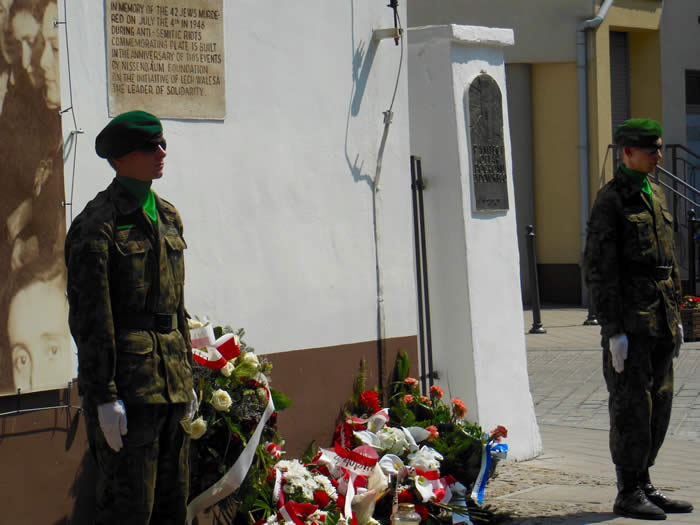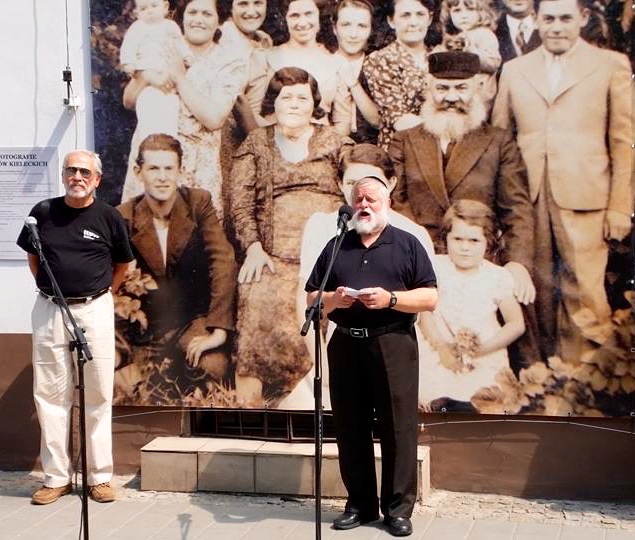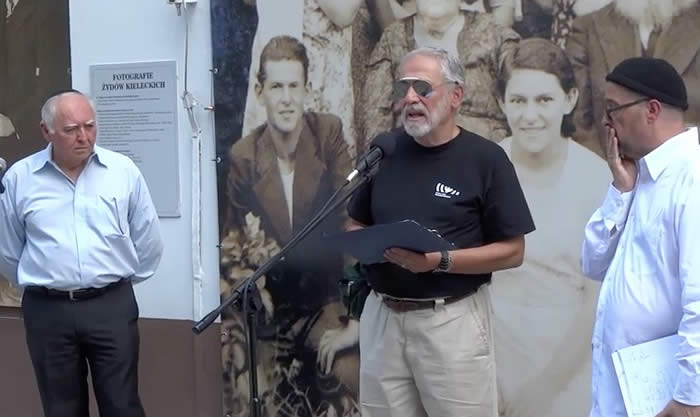 ---
And I Still See Their Faces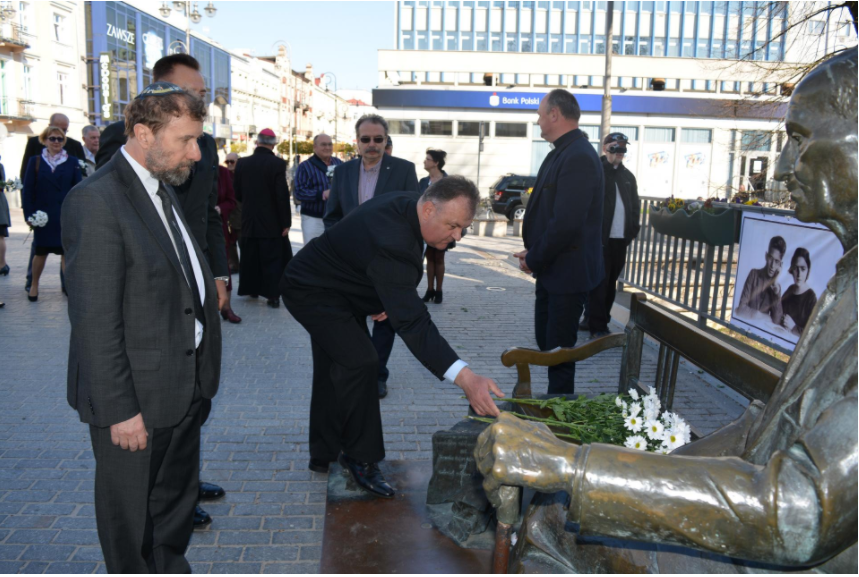 A short film has been made of this photo exhibit in Kielce.
On April 23, The Jan Karski Society celebrated its 10 years anniversary and inaugurated the Institute of Culture and Dialogue located in the building at 7 Planty Street – site of the pogrom. At this location is the photographic exhibition "And I Still See Their Faces" (a photographic glimpse of the pre-war Jewish community). This link has a gallery with many interesting photos.
---
A Sobering Ceremony in Kielce
The 68th anniversary of the Kielce pogrom (link)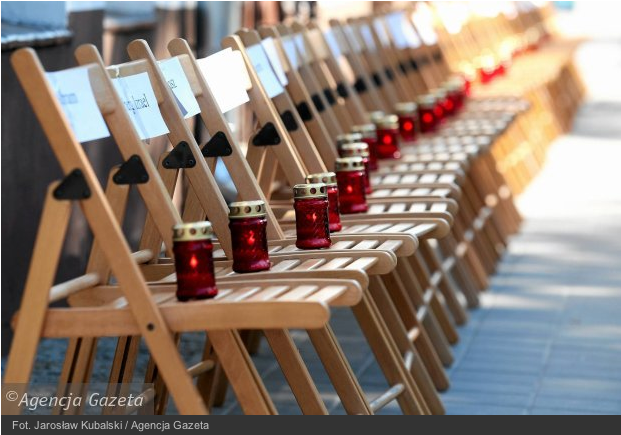 "He handed me a list of 42 names and I began to shudder. Each name represented a life cut down, a shocked survivor of the recent horror. Next to each name was a number—their age" – Rabbi Avi Baumol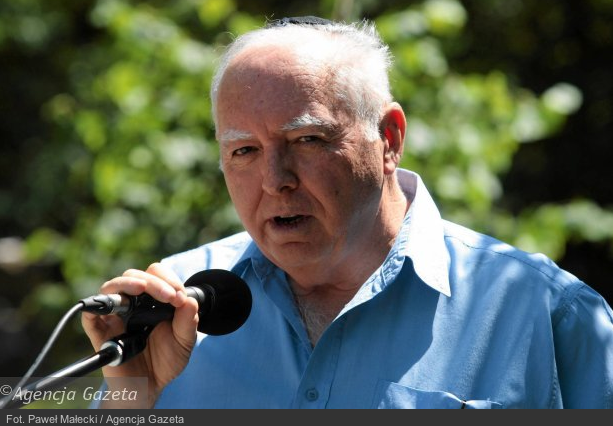 ---
Rescuing 5 Jews from Kielce, Righteous Among Nations was awarded by Yad Vashem to the family of Jozef and Marianna Walczynski
July 4, 2013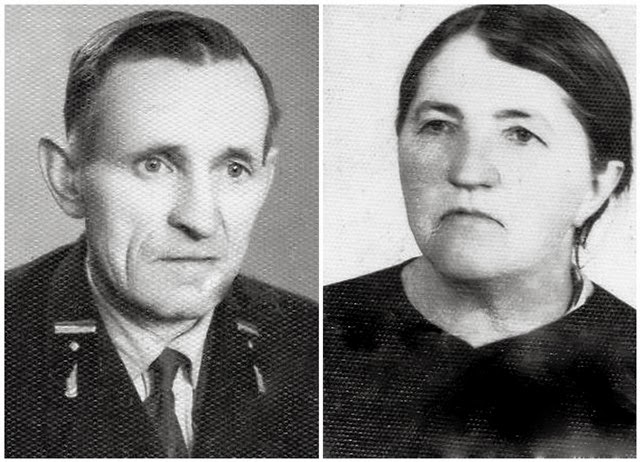 Coinciding with the Kielce March of Remembrance and the commemoration of the Kielce pogrom, the Righteous Among Nations ceremony and presentation was held in the Kielce City Hall. The event was hosted by the President of Kielce, Wojciech Lubawski, the Jan Karski Society, under the leadership of Bogdan Bialek, and the Israeli Embassy in Poland, represented by Israeli Ambassador Zvi Rav-Ner.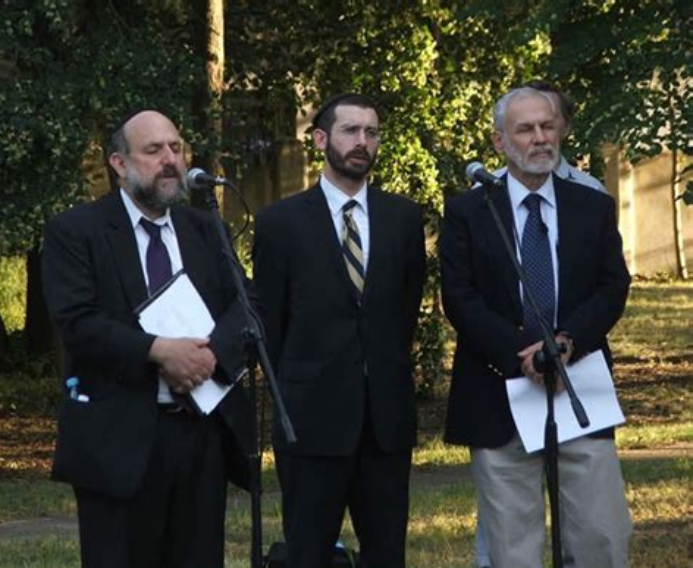 A gallery of photos highlighting the awarding of Righteous Among Nations, as well as the commemoration of the Kielce pogrom and the prayer service at the Jewish cemetery.
The speech delivered by Manny Bekier during the awarding of Righteous Among Nations ceremony. Speech was printed in Polish and distributed during ceremony.
Many photos and information can be found at the site of the Jan Karski Society.
---
Kielce Pogrom Lecture
November 23, 2008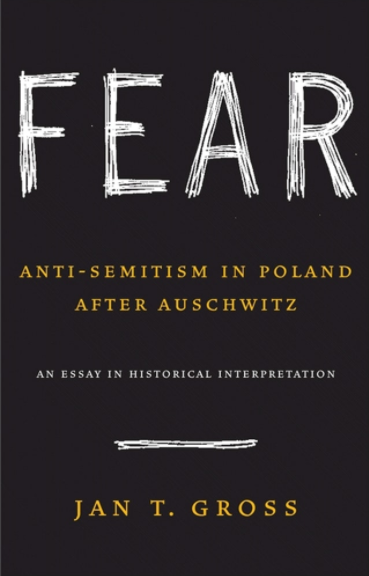 Jan Gross spoke on the Kielce Pogrom to survivors and Jewish Descendants of The Jewish Community of Kielce at the Garden Jewish Center in Queens.
Internationally renowned scholar and author Jan Gross, Professor of History at Princeton University, addressed and met with some of the very few remaining Jewish Holocaust survivors from Kielce, Poland along with descendants of that destroyed community. This was an emotional and significant event for the aging survivors from Kielce, as Professor Gross' research provided insight into the murder of their friends and families in the Kielce Pogrom, which took place one and a half years after the liberation of the death camps.
Professor Gross is the author of the controversial books, FEAR: Anti-Semitism In Poland after Auschwitz (Random House, 2006), and NEIGHBORS (Princeton University Press, 2001). According to Thane Rosenbaum, writing in The Los Angeles Times Book Review, "FEAR takes on an entire nation, forever depriving Poland of any false claims to the smug, easy virtue of an innocent bystander to Nazi atrocities".
This talk, which was open to the public, was in the format of questions posed to Professor Gross by Manny Bekier, member of the Executive Board, who collected questions from the members of the Kieltzer Society.